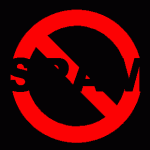 Backlinks are they spam?
I have been searching around and asking some of my SEO buddies and the census is Backlinks are spam = No good! Unless they reciprocate! I was on a Google site–http://www.google.com/support/news_pub/bin/answer.py?hl=en&answer=68323–This is perfect information regarding, creating a Press release or News about your site. Which in turn makes the Spam bots automatically generate comments that need to be approved by a moderator or site owner. The Bots drop generic comments in your comment section. They do this hoping for an approval and getting their backlinks spam posted.
Here is the "rub"– When you OK a comment as I have done in the past, you know have allowed a back link of another site– not knowing their ranking or anything about them.
Backlinks Spam-Playing the odds?
As mentioned prior the old shotgun effect of generic spam backlinks to get that almighty exposure and backlinks to help rank.
"That is the idea", figuring most of us do not want to insult or delete a perfectly good compliment on an article one had written. But the fact is; it is Spam and Google and the likes of realizes this via same quote or excerpt. That will weight you down because you OK'd a, "What appeared to be a compliment"– Yet a spam bot did it, 25000 times already and the Search engines just lump you into 'another spam-bot-site' via spam backlinks.
Ways to use spam backlinks to your advantage
When you get a spam backlinks posted on your website, consider this. Stripping out their URL's and Spam backlinks, take their unique browser signature and OK the link, but only after you disable the spam backlinks URL. This way you get something out of dealing with a spam backlinks other then work.
Am I a Spam backlinks if I use my URL as my signature?
I would also recommend for a website owner to be posting somewhere in articles, to reference something in the article to be recognized as a contributor or actual 'organic or human' comment. Some Web owners I know are contributors to Forums and use their signature to their site and with every helpful comment their URL is essentially getting the exposure. They are not considered Spam backlinks as the comment is unique and the web link is ranked up as a sort of an expert and in real time. That is why Twitter is so Hot.
Then One can have their precious Back link and the site admin gets a real comment by a real person and not labeled as Spam backlinks website.
This was just a quick update about Spam back link and the good and bad of it.
Hope this helps before you decide to approve that spam backlinks.
Comments will be posted by those who reference spam backlinks in their comments.