Website Commercials Increasing and Closing Sales
Computers are great for researching information or selling automatic services that can be handled or tackled by the consumer themselves. Case and Point, ordering a self addressed stamp maker. However, computers do not close deals, over come objections, nor do they ask for the business when the time is right. Hence a different approach to selling with a website. Please read on, as I delve into capturing, captivating and closing deals using website commercials.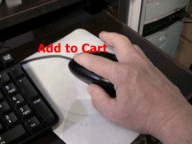 Website Commercials and being Shopped
Simple fact, when a consumer stops and shops at your virtual store, back clicks or moves on, they either missed the area where their needs would be fulfilled, or had a question not answered. Does your website offer a clear concise way to handle that? Are you being part of the problem by baffling them with different ways to explain something? NetCommercial produces professional website commercials, inexpensively tailored for your business, to get your message across. I will go over a few different ways in this article to capture more click traffic, as it is not foot traffic; of a brick and mortar store.
Overcoming Questions on One's Website
One way to overcome questions without live customer interaction or input, is too have an area described or named; Commonly Asked Questions.
In this area, One should have a list of common questions, with answers, readily available and easily navigated. The fact is, we are a society of a 'NOW' generation so Virtual Chat is becoming more and more predominant and appreciated over emailing. Having an 800 number available is another way. Both are free to the consumer and invite a customer to inquire, or allow the staff to answer, or handle any objections. One bonus to compensate the cost of an 800# is that the Store owner gets the potential clients phone number automatically, to follow up with a customer. The negative- would be that most are so fed up with sales, they are on a Do Not Call list. That moves us back to Virtual Chat.
With Virtual Chat, one can answer and usually overcome a customer's objections to close that sale. If you are a smaller business without a full time Chat staff, I am sure that a chat line could be forwarded to One's cell phone. The challenge being, when getting more then one chat going. Challenging yes, yet can be overcome.
With a chat line, questions can be answered and "the business" can be asked for via emailing a link to the item in question. Steering them to the needed or wanted item in question with a link that adds it to their cart. Creating a bit of ease and assuming the sale, as well as creating a 'soft close' as it is called in the sales industry.
This is also a good time to ask for an email address to follow up with, or if they had any questions. An Email is less intrusive way then a phone call and usually a bit more tolerated. Along with some consumers take a while to make a decision. If you get their email address, you can send them periodical follow ups in regards to your store. Or if your website is refined, you can email them about a specific item they asked about. Also, One should have a sign up area for an email.
Would you rather farm a cold lead, or one that has some interest in your Brand? Offer a discount or a freebie when signing up for your e mailer. Make sure you reassure the person signing up for the e mailer, that You DO NOT SELL their address! Keep in mind, if a consumer cannot make a decision on your product, it is usually because they are not sold on it. Price is an issue, only if there is the exact same product and service available one click away. With website commercials one can tackle that objection easily and concisely.
That brings us to Ranking on search engines and being found online. Did you know? Website commercials are now tracked by Google and can be tagged as content for One's site.
Ranking with Website Commercials
Ranking on the first page of a search engine is an intricate subject, with many points that can be made. For ease, I will brief on a few challenges, assuming you are already ranking first or second page and maybe losing your business by someone using your page to learn about a specific product(s) and then searches for the 'Best price'. Those folks are out there, however they are far and few.
The true reason they left your site to search for the price, is you did not sell them on your company's service. There are some who feel that it is all about price and that it does not matter where they buy from, as long as they get the 'best price'. They have not applied value to you or your company! This is an important fact. People will step up and pay more for the same item if they feel more comfortable with and your service over another. Case and point, Amazon over E bay. This can be overcome, or One can cause doubt in the consumers mind with those cheaper sites, the ones with no overhead. You know, the ones who have a million links and no information, just betting on someone looking for the exact item and color.
One way for a store owner to create doubt of that 'other-store' is by that store owner stating that their product is not a factory second or imperfect. By a store owner stating this, does that make you wonder if the 'other-guy' the cheaper guy, is selling seconds or knock offs? By reassuring a client that you are in business to stay, along with testimonial to prove it, that helps. Here is the real challenge, getting that message across or getting them to read it!
One way to attempt they read your spiel or testimonies, or to be assured you are the one to do business with; would be a fly-in page of testimonials on a back click.
A fly-in page is a page that fly's in after a moment or two. The fly-in page can be a small 4×4 window with scrolling info. Be it testimonial or guarantee. The challenge one faces, are the Ad blockers from Browser's. Yep,those fly-in pages are blocked many times. After you create a page, spend money, time and all that work; it can be blocked/never viewed. Now you are back to where you started. That, or a consumer just closes the fly in page, as they are busy reading and expect it to be ad pitch anyways.
This is where website commercials comes in. A short concise website commercial with your assurance and guarantee or letting the consumer know you do not sell knockoffs or seconds. A Website Commercial where a spokesperson tells the consumer important points that will close the sale as if they were in front of you. That same reason you had such success and have now moved online to reach a broader audience, yet not getting your closing ratio numbers.
Remember back when you would share your product or One would come into your Brick and Mortar location and 1 outta 3 would buy? Due to your sales staff or you reassuring them that you are the one to do business with and that is the item they are looking for. Maybe because that is when you could ask for the business, or asked for the business? That magic moment when a client either objects to price, color, or was not sold on the item or your company! Conversely, is SOLD and commits and feels so good about the purchase, they are now your Maven for advertising.
Creating Curiosity & Opportunity with Website Commercials
With Website commercials one creates curiosity. With curiosity comes opportunity. With opportunity comes a Sale. By having a flash video or using website commercials, it has a place marker with a play button waiting to be pressed. I assure you that 8 out of 10 will push the play button to your website commercial. It is human nature to be curious. The ones that did not push play are leaving your page anyways. Think for a moment….Or let me ask you this, please? If you are interested in an item and you have the opportunity to hit play and learn about that item; wouldn't you check it out? Providing, when pressing play it is not too time consuming and is professionally done?
I think the answer is yes. I have found that when I, or a friend is interested in something, if there is a resource or video to watch it will be watched. Now it is up to the Website commercials owner to share those key points of why to do business with them, along with perhaps steering them to areas of testimonial or giving a guarantee. One can also close with asking for the business. Simply close your website commercials with a message. There is no pressure with website commercials only useful information and possible guarantees. However your website goes from being a flat static webpage to a website with assurance. People buy people, if they feel more comfortable with your website they will do business with you. Website commercials work and there are plenty of stats from Google to substantiate that.
Where and When to use a Website Commercial
There are a couple of areas to use website commercials. I am not saying one should make an individual commercial for each and every item on their website. However, One should at least have a Website commercial for their mission statement, guarantees and re-assurance that they are the one a consumer should do business with. Using website commercials to go over a condensed/short version of what the first page of One's Website states.
If One is selling an item, a quality walk around or demonstration of the product being sold, would be wise. Along with that chat area mentioned above, to click onto for questions that may have not been gone over in One's website commercial. At least have an email contact that is answered with in 24 hours and states that. People will give you time to respond if you let them know you will, and do so, timely.
Website commercials, allow a walk around demonstration to re assure the consumer that the item in question will work for their needs. Case and point, a computer part that does something and is written or described in engineer jargon, or a short video showing the item doing what the consumer is looking for.
Example: Have you looked at the new TV's lately? Most offer internet ready TV'S. It is written on the screen, window, box and yet, people still ask; "Can I browse the Internet on this TV?" Why do they ask? Re-assurance. That is what Website Commercials do. It allows the business to re-assure and in a plain, direct, non confusing way, show the client that what you are selling will work for them. Taking the confusion of buying and allowing your consumer to make an informed decision. Or re affirms and delivers the message that they are at the right place to make a purchase.
Tip; for reading this far. If One were selling widgets that were in heavy competition, that One went to the trouble and expense to demonstrate, via website commercials, etc… One should add a letter or number to the item on One's site.
For example, a widget available with the Model name HDV60-IE that can be shopped easily, as mentioned above. That item should be badged on One's site, (after all the ease, re-assurance and education you have created on your site, with video etc…) be badged HDV60-IE-2 or HDV60-IE-(your company initials). This alternately tagged Model number or item, will still come up in search engines, yet you've created a bit of doubt or curiosity, regarding that product. Coupled with professional video/website commercials and the tips above, I am sure you will be the one getting the sale, of an item that is in heavy competition, or at least a direct inquiry about it.
Website Commercials turn Shopper's into Buyer's
People shop because they want information. They want enough information to make an informed decision. A website commercial will take pages of printed information or technical jargon with ease and help with the decision making. This is done by keeping a customer from getting baffled with information, so they can make an informed decision. By having a website commercial you will be able to let a shopper make an informed decision on your website with your badging. One step closer to a sale. Plus, most people do not like or prefer to read.
Remember, an informed consumer, is an easy consumer. Imagine having to teach accounting to everyone who wants to buy an adding machine. Or would it just be easier showing the adding machine adding, or meeting their needs? Obviously the latter. The point being, is to harness the full potential of your webpage and turn it into a website. With a bit of tweaking and age old practices, you will have your little piece of the pie on the Internet. Good luck and thanks for reading.
If you like this information and find it useful. Please subscribe to my (RSS) feed above or Bookmark (CNTRL D) me. The Rss will email you with another useful article when I publish one and the Bookmark will help you find me again.
Thanks again for reading. As always to be considered a real comment and not spam please include the words Closing with Website Commercials in the subject line.
Best,